HOW CORONA KILLED NOKIA MOBILE
A couple of years ago, Microsoft reached a deal to acquire Nokia's struggling devices and services business, and just recently, the Finnish company sold its HERE mapping unit to a group of German car-makers.
Whenever you turned on one of Nokia's legendary handsets, you always got the same thing: that famous signature logo, holding hands.
And for more than one generation, it was hand-holding Nokia did best – carrying people through, bit by bit, the mobile revolution.
Because way before we were shouting, "Damn you autocorrect", we were grappling with new-fangled predictive text.
It's true that Nokia had terrible last five years, but this doesn't take away the fact that it was this very company that effectively defined the mobile industry for over a decade prior, and gave us some of the most memorable phones.
In less than a decade, Nokia emerged from Finland to lead the mobile phone revolution. It rapidly grew to have one of the most recognizable and valuable brands in the world. At its height Nokia commanded a global market share in mobile phones of over 40 percent. While its journey to the top was swift, its decline was equally so, culminating in the sale of its mobile phone business to Microsoft in 2013.
It is tempting to lay the blame for Nokia's demise at the doors of Apple, Google and Samsung.
When explaining Nokia's fall many observers found three reasons:
Nokia's technology was inferior to Apple's;
The arrogance among top-level managers;
Lack of vision
Era of complacency
So far, so good – but then one presentation changed everything.
"Complacency had kicked in," Mr Wood continues, "they felt they could do no wrong.
So far, so good – but then one presentation changed everything.
"Complacency had kicked in," Mr Wood continues, "they felt they could do no wrong.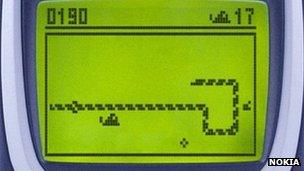 "Then all of a sudden, in January 2007, Steve Jobs walked on to a stage and pulled an iPhone out of his pocket and changed the world forever."
The fall was swift. According to figures from analyst firm Gartner, Nokia's smartphone market share in 2007 was a dominant 49.4%. In subsequent years, it was 43.7%, then 41.1%, then 34.2%.
A concise timeline of Nokia's important moments:
In October 1998, Nokia became the best-selling mobile phone brand in the world;
Nokia's operating profit went from $1 billion in 1995 to almost $4 billion by 1999;
The best-selling mobile phone of all time, the Nokia 1100, was created in 2003;
In 2007, Apple introduced the iPhone;
By the end of 2007, half of all smartphones sold in the world were Nokia's, while Apple's iPhone had a mere 5 per cent share of the global market;
In 2010 Nokia launched the "iPhone killer" but failed to match the competition;
The quality of Nokia's high-end phones continues to decline;
In just six years, the market value of Nokia declined by about 90%;
Nokia's decline accelerates by 2011 and is acquired by Microsoft in 2013.
Nokia's demise from being the world's best mobile phone company to losing it all by 2013 has become a case study discussed by teachers and students in business management classes
Here is what Mr Huy and Mr Vuori found:
At that time Nokia suffered from organisational fear;
The organisational fear was grounded in a culture of temperamental leaders and frightened middle managers;
The middle management was scared of telling the truth because they feared being fired;
Top managers were afraid of the external environment and not meeting their quarterly targets;
Executives were afraid to publicly acknowledge the inferiority of Symbian, Nokia's operating system;
They knew it would take several years to develop a better operating system that could compete with Apple's iOS;
Top executives were afraid of losing investors, suppliers and customers if they acknowledged their technological inferiority to Apple;
Top managers intimidated middle managers by accusing them of not being ambitious enough to meet their goals.
Leave a Comment
Share on Facebook